Halting Problem 1997-1998
Final season record: 3-1-3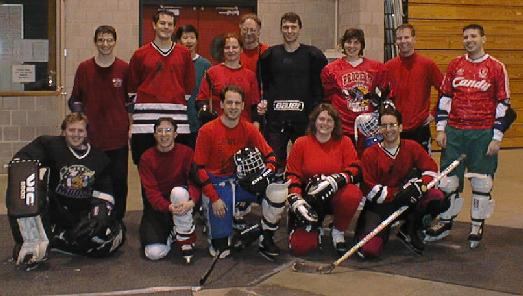 From left to right. Front row: Chris Stauffer, Dave Evans, Carlo Maley, Holly Yanco, Rodney Daughtrey.
Middle row: Chris Buehler, Mark Foltz, Tal Malkin, Mike Batchelder, Jill Fekete, Alex Snoeren, Arrin Katz.
Back row: Juan Lin and Sandy Wells.
Not pictured: JP Grossman, Lisa Kozsdiy, Polly Pook, Gideon Stein, and Mike Taylor.

---
Schedule
Scorers
October 26 vs. ICE9 (Chemistry)
1-0
Daughtrey
Juan
Foltz
Buehler
JP
Kozsdiy
Maley
Taylor
5
4
2
2
1
1
1
1
November 30 at Ice Jasons (HST)
2-2
December 11 vs. Peter Karmanos Sucks
0-2
January 7 vs. Wellesley
5-1
January 21 vs. The Inferno
3-1
February 15 at Wellesley
4-4
Enforcers
February 18 vs. Harvard Business School Women's
(mixed squad exhibition)
4-0
Stein
Foltz
2 PIM
2 PIM
February 18 vs. Chemical Engineering
2-2
"Shove your man out.
Stick check him.
Push him."
T. Simon

---
Mark A. Foltz (mfoltz@ai.mit.edu)

Last modified: Mon Oct 5 20:28:08 1998