The Evolution of Antware:
This sequence of cartoons shows the projected path for the cooperative software design.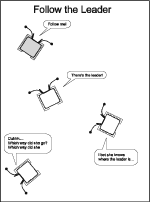 Follow the leader is the easiest, as it involves only a few robots. The first robot transmits the leader signal, and the second one follows her, the third one follows the second one, and so on.
---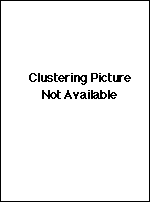 Clustering is the next step. It's very similar to Follow the leader, but now any robot can head for the leader. Other robots can follow the robot that sees the leader, and still more robots can follow the robot that is following the robot... and so on for many levels. Click here to for a clustering video clip
---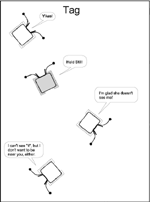 After clustering comes Tag. Now the robots have to use a little strategy to avoid being tagged by the "it" robot. Likewise, the robot that is "it" must effectively search out and tag the "not it" robots. Click here to for a tag video clip
---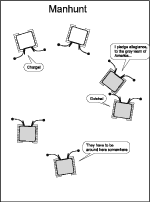 Tag with teams is called Manhunt. Now there are two teams of robots, each trying to tag all the members of the opposing team. When a robot is tagged, it becomes a member of the other team. With this game, different strategies and types of cooperation can be tested against each other.
---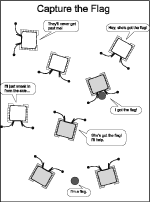 The next step is the game of Capture the Flag. There are two teams, as in Manhunt, but now the goal is to get the opposing team's flag and bring it to your home base. Now the community has to incorporate division of labor, as some robots have to defend the base, while others attack to get the other team's flag.
---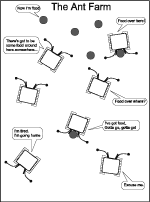 The ultimate goal is to simulate an ant colony, complete with cooperative foraging, navigation to and from the nest, defense from invading ants, and all the other stuff that makes ants so interesting!

This looks really cool in the cartoons, but what do these robots REALLY do? Social Behavior, the next step.
---

Return to main page.