Automated Network Monitoring
Text from presentation made at the M.I.T. Workshop on Internet Survey Methodology and Web Demographics, 29-30 January 1996, Cambridge, MA, USA 30 January 1996
Marc Abrams and Stephen Williams

Computer Science Department
Virginia Tech, Blacksburg, VA 24061-0106

abrams@vt.edu, williams@csgrad.cs.vt.edu

http:/www.cs.vt.edu/~chitra/www.html

[Link to postscript version of powerpoint slides.]
---
Taxonomy
Logging: Shows what people do
Surveying: Shows who's doing it
---
The Four Logging Methods
By "Footprints" (needs software on each client)
At Proxy (only works with client preferences)
At Server (easy, since Web servers do it)
By Network Monitoring: (listen to all HTTP packets on a broadcast network)
---
Automated Network Logging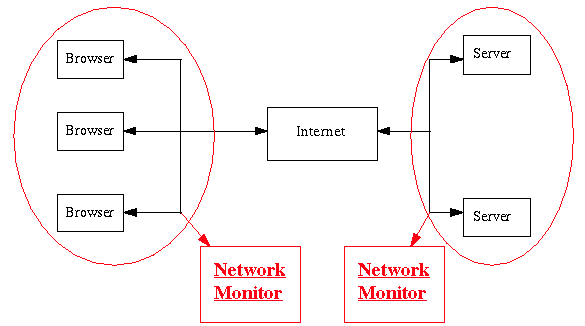 ---
What Network Monitoring Can Do
Transparency: No changes to any client or server are required
Security: No one has access to data except owner of monitor machine (such as auditor)
Performance: Monitor never writes packets
---
Dark Side of Network Monitoring
Employer could monitor what employees are doing.
(But did you realize this is could already be happening without network monitoring?)
---
Up Side of Network Monitoring
No sampling or self-selection problems: You get all document requests.
Can compute a rating for set of monitored clients
You get more information per URL than from server or proxy log
---
Log File Record
Our log records contain the following fields; the first six are in the common log format generated by popular Web servers.

Client machine (optional)
Timestamp of GET packet
Command (containing URL)
HTTP version
Return code
Document size

User identity (optional)
Browser information
Gateway or proxy server version

MIME type of document returned
URL linked from (i.e., the parent's URL) Additional resolution of GET timestamp, giving milliseconds Connect time, from GET packet to first response packet (in seconds) 
---
How Network Monitoring Works
Attach one or more new machines, each called a monitor, to network with Web server of interest
Monitor captures connection request TCP packets
Decode HTTP packets in TCP packets
Generate "common log format" file with augmented fields
---
What Could You Do With Client Logs?
Everything you do with server logs
Create a taxonomy of the types of servers that users visit
With a session id added to HTTP:

Could show paths users take through hyperlinks to get to and through a Web site
---
Application of Automated Monitoring
Proxy cache performance study with 5 workloads:

Multimedia classroom
Undergraduate Computer Science lab
Graduate Computer Science lab
All client traffic on department backbone
All Web server traffic on department backbone

Planned studies:

Community network: Blacksburg Electronic Village
Collaborative Web tool nnin K-12 public schools
Non-technical departments on campus
---
Privacy Issues in Our Monitoring Activities
Raw logs (with client host names, URLs) are considered confidential
Dedicated monitor machine facilitates privacy
We can encode client and URL fields, to distribute logs to researchers
We only publish demographic information with permission of subjects
---
HTTP Protocol Suggestions
We need:

Standard syntax for "User Agent" and Server fields
User session id in every HTTP header

(use browser process id)

Others may need:

Add non-loggable bit
New packet type for server to request a proxy send request hits for that server only
---
Tool Set Available
HTTP protocol decode
Common log file generator
Chitra, a tool for trace visualization and statistical analysis for log files
See http://www.cs.vt.edu/~chitra/www.html.
---
Appendix -- More Details
---
Details of Method
Use tcpdump to capture initial 512 bytes of data of each TCP packet establishing:

client to HTTP server connection, or
HTTP server to client connection

Stream tcpdump output through HTTP protocol decode and generate intermediate log file
Post processing matches HTTP Gets with replies to construct "common log format" file
---
Volume of Collected Data
Department backbone traffic workload:
80Mb/day, raw
80MB/mo, to disk
50Mb/mo, CLF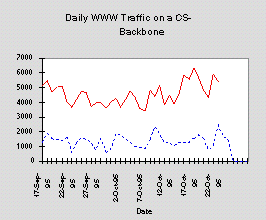 ---
Error Sources in Resultant Log
Dynamically created Web pages are assigned size zero in HTTP header...

Only important if you want to analyze document sizes

An occasional HTTP server doesn't know what time it is...

Only important if you want to analyze log by time of day, day of week, etc.