People working in the Leg Laboratory were legged locomotion enthusiasts of all stripes. They represented several disciplines, including electrical engineering, mechanical engineering, computer science, physics, biomechanics, and aero/astro.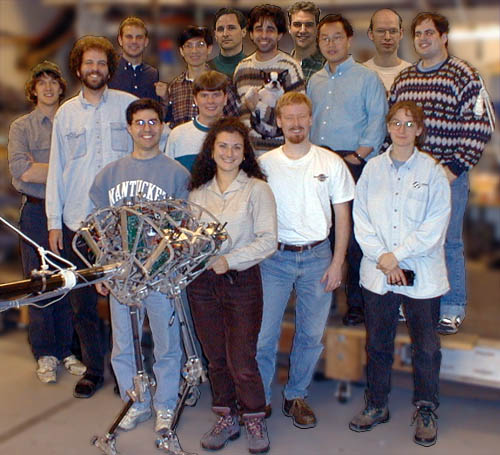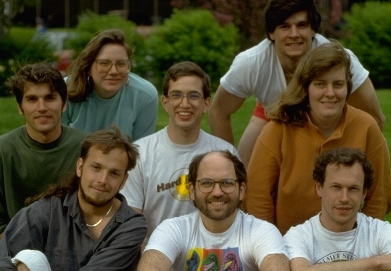 Marc Raibert founded the Leg Laboratory in 1980 and directed it through 1995. The Lab was originated at CMU when Marc was Associate Professor in Computer Science and the Robotics Institute, and it moved to MIT in 1986 when Marc became Professor of Electrical Engineering and Computer Science and a member of the Artificial Intelligence Lab. He is now president of the company he co-founded, Boston Dynamics, Inc.
Gill Pratt is an Assistant Professor of Electrical Engineering and Computer Science.
Hugh Herr is an Assistant Professor at the MIT/Harvard Division of Health Sciences and Technology and Harvard Medical School.
Allen Parseghian developed control algorithms for 3D bipedal walking.
Andreas Hofmann studies simulation and control algorithms for walking and jumping robots.
Andrew Allen worked on his MEng with the Recti-Blob II .
Ann Torres worked on hexapod simulation.
Abbe Cohen was a UROP working on feet and ankles for the 2-d bipeds.
Adam Crane did UROP work and his Senior Thesis in the Leg Lab, and helped out with several other projects. Adam is currently hacking computer creatures at Boston Dynamics, Inc.
Anthony J. Stentz
Ben Brown was the key mechanical designer for many of the Leg Lab robots. He is currently on the staff at the Robotics Institute at Carnegie-Mellon University.
Ben Krupp designed and built Corndog for his Master's Thesis in Mechanical Engineering.
Charles Francois made the uniroo run at 2 m/s. He is currently working on his PhD at INRIA Sophia Antipolis, France.
Chris Morse designed and built Coco for his Master's Thesis in Mechanical Engineering.
Chris Wren did his Senior Thesis in the Leg Lab using physics-based simulation to model a tree blowing in the wind. After graduating and spending a year at BDI, Chris jointed the Media Lab as a graduate student.
Chee-Meng Chew worked on learning applied to bipedal walking algorithms for his Mechanical Engineering PhD Degree. He is a now a professor at the University of Singapore.
Clay Thompson worked on passive dynamic running.
Daniell Hebert worked on the Zero Gravity machine.
Daniel Paluska worked on design and control of a physical version of a luxo lamp, many series elastic actuator designs, some new feet for spring flamingo, and the design and control of the 3D biped, M2. As of 2003, he is working with Hugh Herr at the Media Lab in the Biomechatronics group.
Dave Barrett was a mechanical designer in the Leg Lab for three years. He is currently working on swimming robots in the MIT Department of Ocean Engineering.
David Bailey worked on Geekbot looking at smooth transfer of support for his M.S. Thesis. He is currently working at Sarcos Research Corporation.
David Robinson developed Series Elastic Actuators for use in M2 and M4.
Eugene Hastings
Francis C. Wimberly
Garth Zeglin built the uniroo and first made it hop. He is currently a graduate student in Matt Mason's lab at CMU.
Gregory Huang was a postdoctoral associate working on models of biped and quadruped locomotion, with applications to orthotics.
Jeff Koechling did his PhD thesis studying the limits of robot running speed. As part of that work he programmed the planar biped to run fast: It set the world land speed record for legged robots by running over 13 mph. Jeff is currently Chief Scientist at Boston Dynamics, Inc.
Jeffrey Miller
Jerry Pratt was a graduate student at the LegLab from 1994 to 2000. There he developed novel control techniques and algorithms for bipedal walking. He and Peter Dilworth designed and built Spring Turkey in 1994-95. Jerry designed, built, and controlled Spring Flamingo between 1996 and 2000. In 2000 Jerry Co-founded Yobotics, Inc. and in 2002 he joined the Institute for Human and Machine Cognition in Pensacola, Florida.
Jessica Hodgins did her PhD thesis in the Leg Lab, working on foot placement for the planar biped. In the course of doing her thesis, she programmed the planar biped to run up and down a set of three steps. She also helped make the planar biped do front somersaults. After her PhD thesis she did a one-year postdoc in the lab working on animated characters. She is currently a professor in the College of Computing and a member of the Graphics Visualization and Usability Center at Georgia Institute of Technology, Atlanta, GA, where she runs their Animation Lab.
Jianjuen "John" Hu
Jiping He
Jonathan Hurst was a student from CMU who worked on Series Elastic Actuators at the Leg Lab one summer.
Karl Leeser completed a Master Thesis in the Leg Lab in 1996. He studyied the role of an articulated spine in quadruped running, including construction and experiments with the Planar Quadruped.
Karl Murphy did a Master's Thesis in the Lab when it was at CMU on coupled oscillation in bounding.
Kenneth Y. Goldberg
Lance Borvansky did a Master's Thesis simulating ostrich running.
Lee Campbell worked on "On The Run", and helped with a variety of projects. He is currently working at the MIT Media Lab on the taxonomy of classes of human motion using vision.
Martin Buehler was a postdoc in the lab, working on the quadruped and kangaroo robots. He is currently a professor at the Centre for Intelligent Machines , at McGill.
Matt Williamson PhD Thesis was on environment-coupled control for Cog 's arms. His MSc on Series Elastic Actuators was advised by Gill Pratt, and he's co-authored some of the lab's publications.
Michael Chepponis was the key software guy for many of the early Leg Lab robots. He is currently at California Wireless Inc. in Santa Clara.
Michael Saginaw worked on electronics and force control.
Mike Wessler studied motor control learning.
Mitchell London worked in the lab as an undergraduate at CMU. He is the founder of Connect Software in Redmond, Washington,
Peter Dilworth designed, built, and controlled Troody, a compact dinosaur-like robot.
Robert Playter did his PhD Thesis in the Leg Lab in 1994. His thesis examined passive methods for stabilizing gymnastic maneuvers. He programmed the 3D-Biped robot to do somersaults. Rob now works at Boston Dynamics, Inc. He was a champion collegiate gymnast in 1985, with one hell of a high bar routine: Part I(696K MPEG) , Part II(986K MPEG).
Robert Ringrose finished his PhD thesis, Running Without Active Control.
Russ Tedrake developed walking algorithms based on trajectory learning techniques for training neural networks.
Seth Holler worked on gymnastics simulations as a UROP.
Steven E. Shreve
Seshashayee S. Murthy
Takashi Aoki spent 18 months in the Leg Lab as a visitor from Fujitsu. He worked on the 3D biped and on the Lab's early animation projects.
Woojin Lee gave the monopod a flexible foot.
Zexiang Li was a postdoc in the lab, developing the theory of non-holonomic maneuvers.
---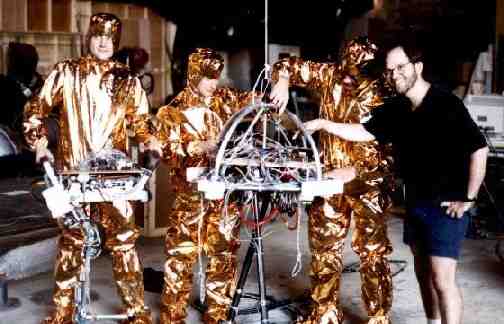 The Leg Lab crew on the set of Rising Sun at 20th Century Fox. We ended up wearing white lab coats in the movie. (From left: Charles Francois, Lee Campbell, Rob Playter, Marc Raibert.)
---
Last Updated: November 28, 2004
---
© Copyright MIT Leg Laboratory. All Rights Reserved.