Research Projects

A Multi-Cue Vision Person Tracking Module

MIT2000-05

Start date: 07/2000

Trevor Darrell and Eric Grimson
MIT AI Lab

Hiroshi Murase
NTT

Project summary
This project will develop a multi-cue person tracking sytem that will integrate stereo range processing with other visual processing modalities for robust performace in active environments.
Next generation intelligent environments and interfaces require low-cost, easily configurable person tracking systems to provide perceptual awareness of users. We will build a robust multi-cue vision module that will provide these services. By exploiting the near orthogonal error modes of different cues or sensing modalities, this system can be more robust and real-time than a system based on any single cue.

We plan to implement this system on a single motherboard system. We hope to demonstrate a laptop-based system with (relatively) low-cost stereo camera heads.
Demos, movies and other examples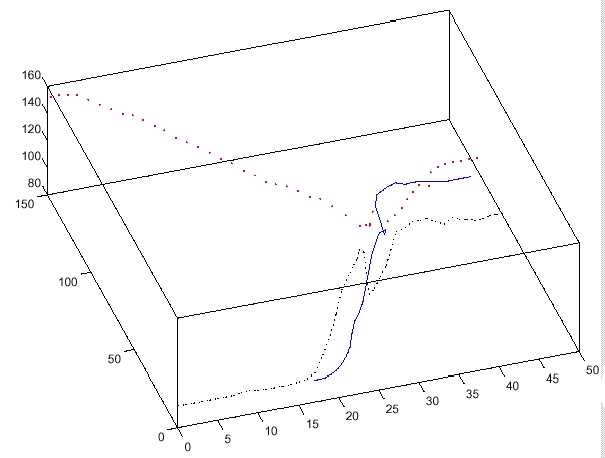 Spatio-temporal trajectories of 3 users moving in a room; horizontal dimension is time, from 0..50 seconds. Other dimensions are position on ground plane in plan-view representation
Video: Room Tracking Video
The principal investigators
Presentations and posters




T.Darrell ,D.Demirdjian, N.Checka and P.Felzenszwalb, Plan-view Trajectory Estimation with Dense Stereo Background Models, MIT AI Lab Memo Number AIM-2001-001, February 2001.
Proposals and progress reports
Proposals:
NTT Bi-Annual Progress Report, July to December 2000:
NTT Bi-Annual Progress Report, January to June 2001:
NTT Bi-Annual Progress Report, July to December 2001:
NTT Bi-Annual Progress Report, January to June 2002:
NTT Bi-Annual Progress Report, July to December 2002: